St. Patrick's Day comes but once a year so why not make the best of it?
Whether you're born and bred Irish or just love to pretend that you are for the celebrations, there's lots of great ways that you can bring a little bit of Irish pride into your day and we've got five great tips to get you started!
1. Bring in the Green
Stereotypical as it might be – it's always nice to bring a little bit of green into your life on St. Patrick's Day to show your support for this worldwide celebration. But did you ever wonder where this idea of green started? While you might suppose that we wear green in appreciation for the lush green landscape of Ireland or because it is the "colour of Ireland" think again. In fact you might be surprised to hear that when traced back through history it is known that green is not actually the colour of Ireland or St. Patrick (both were actually connected with the colour blue). The green that we wear so frequently on St. Patrick's Day can be connected with the Irish tricolour flag, as well as its association with the Shamrock (a strong religious symbol of Irish culture), and like everything else in later years this became commercialized.
But if you want to outwardly show your Irish spirit here's a few of our favourite ways to wear green:
Girls, here's a few links to some cute but inexpensive green items:
Green Blazer, Forever 21, $35.80
Green ankle pants, Forever 21, $17.80
Guys: Check out this set of items picked out by Old Navy to make things easy for you. There's lots of choice and no reason to avoid wearing green this year!
2. St. Patrick's Day Nail Art
So it might not necessarily be for everyone, but to all you ladies out there who love to paint your nails. Getting creative with some Irish inspired designs is a great way to get in the St. Patrick's Day spirit and to prepare for the biggest Irish holiday of the year. If you do a quick search on the Internet you will see that the inspiration is endless but we've decided to pick out a few of our favourites to get you started. And don't worry if you're not a beauty specialist just yet there's definitely something for all skill levels: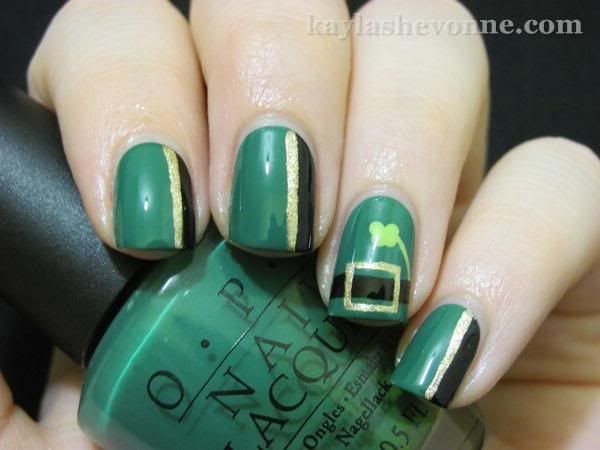 If leprechauns are your thing take a look into this interesting design by "

Nails by Kayla Shevonne

."
Difficulty: Easy/Medium
Tip: Grab some nail art pens from your local drug store, or use a small paint brush to paint on the detail.
Or why not express your love for Ireland by incorporating the Irish tricolour flag into your nail art with this design by "

MadamLucks Beauty Journey

."
Difficulty: Medium/Hard
Tip: You can also find a tutorial on how to get this look on

YouTube

.







But if you're more of a fan of subtle elegance, why not try this just stick with the staple green nails with gold glitter on top? This nail polish by Icing (Irish Gold) featured by 

 "Bandie Cat"

 does the same job!
Difficulty: Easy







3.  Listen to some Irish music

Music is one of the major cornerstones to the Irish culture. For years they have been listening, playing and dancing to this traditional music. It has been played throughout all corners of the country and has always an activity that gathered many people together in social gatherings. With everything from fiddles to harps and bodhráns to accordions, Irish music stands out from the crowd when compared to the music scene of today.  However, while it might be a little different than your favourite playlist on your iPod, it's a great way to really get a feel for Irish culture (it's also pretty upbeat so it's perfect you to play while you're getting ready to go out with your friends).

Our favourite traditional Irish band to listen to is the Irish Rovers.

Some other Irish music favourites with a more contemporary twist are:




4.  Brush up on some history

Come St. Patrick's Day 99.9% will try to tell you that they're Irish. (I'm not joking, I've heard it all ­– once someone told me that they were 1/36 Irish). The truth is lots of people with Irish heritage are very proud of their roots and rightly so! Maybe you even have Irish roots yourself? But whether you do, or you don't, why not take some time out to take a look into the past. Whether you decide to have a look into the myths and legends or would rather learn about the controversies of the past, there's no shortage of information on the Internet to tell you all about "The Emerald Isle." And whether you find a long lost connection to your families' history or just something to use to impress people at the local pub, you're sure to discover something new.

5.  Go there…in spirit

Well the best possible scenario in this situation would be to head straight over there and experience it for yourself. However, since our minimalistic student budgets don't often allow for worldwide jet setting we'll have to make do with what we have available to us. But that doesn't mean you don't get to see what Ireland's like in fact why not go and explore for yourself?

Head onto Google Maps and do a street view tour of the country roads and cities or check out http://www.lookaroundireland.com/

Or have a look through my photo gallery of pictures from throughout Northern Ireland.

[Gallery not found]

Related posts:

Category: Beauty Box, Cheap Thrills, Fashion Fix